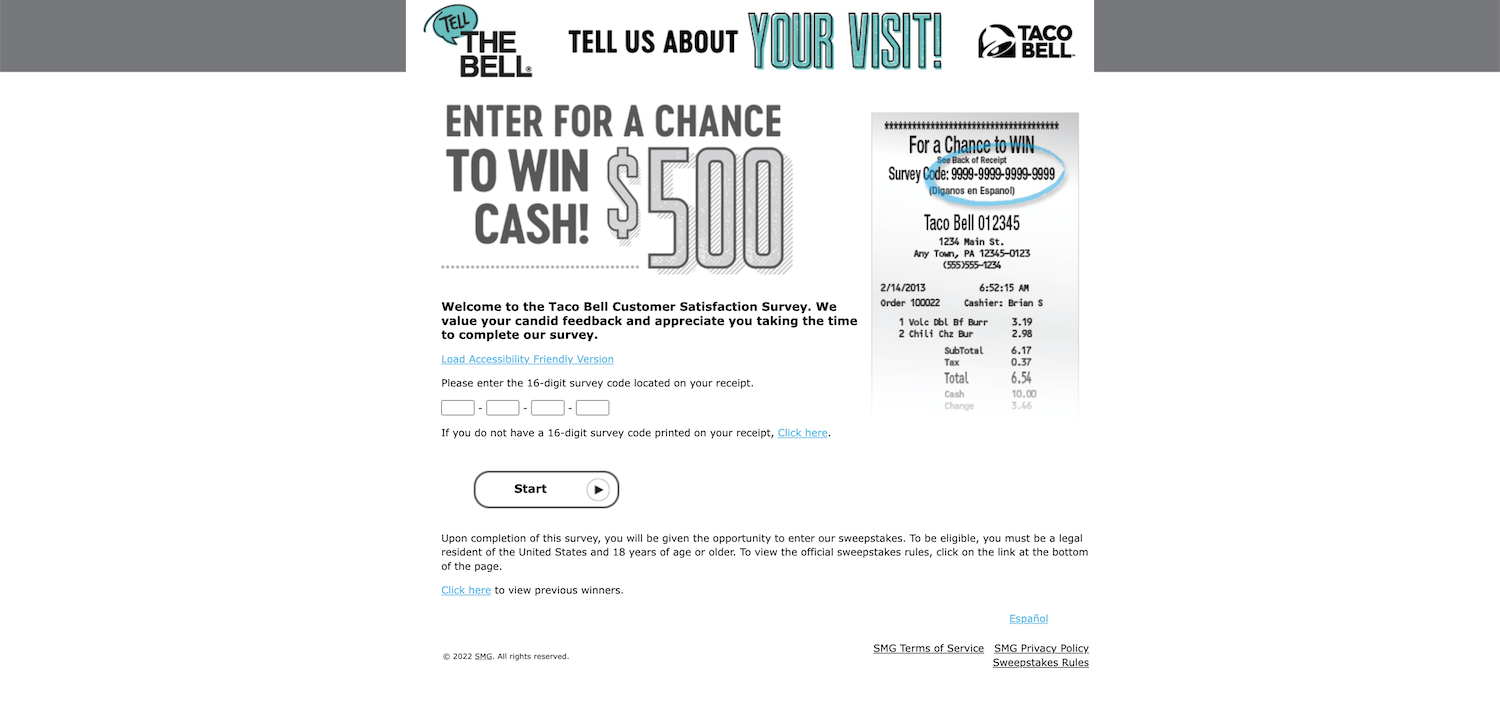 Complete the Taco Bell Customer Satisfaction Survey on TellTheBell.com for a Chance to win Cash! $500 by entering the Survey Code located on your receipt.
How to take Taco Bell Customer Satisfaction Survey?
Open a browser and type www.tellthebell.com in the address bar.
Enter the 16-digit Survey Code located on your Taco Bell receipt and click on Start.
Select your order type; Drive-thru, Dine-in, Carry out.
The customer satisfaction survey will now start and you will be asked to rate different aspects of the restaurant during your visit to the restaurant such as the speed of service, the cleanliness of the restaurant, the accuracy of your order, etc.
Once you are done rating your visit to the restaurant, you will be asked to write a few sentences about your experience.
You will be asked whether you want to be a part of the sweepstake or not.
In the end, you will have to out your contact information which includes your first name, last name, and phone number.
You will be now entered into Taco Bell'ssweepstakes for a chance to win $500 in cash.
TellTheBell Rules
TellTheBell participation is valid for the residents of the US only.
The participant must be at least 18 years or older at the time of entry.
Employees and their immediate family members are not eligible.
Regardless of the method of entry, the limit is 1 entry per person.
4 lucky winners will be selected randomly from all eligible entries received during the entry period.
Winners will be notified within approximately 1 week of each drawing date.
A winner may be disqualified if he/she fails to respond within the timeframe specified which is 3 business days.
About Taco Bell
Taco Bell is an American-based fast-food restaurant chain that was started in 1962 in California by Glen Bell. The restaurant name is known for seeing Mexican-inspired food items such as tacos, nachos, burritos, and quesadillas. Taco Bell was purchased by PepsiCo in 1978 and is currently owned by Yum! Brands. Taco Bell has more than 7000 restaurants all across the US and internationally, the brand has more than 500 restaurants in almost 30 countries across the world.