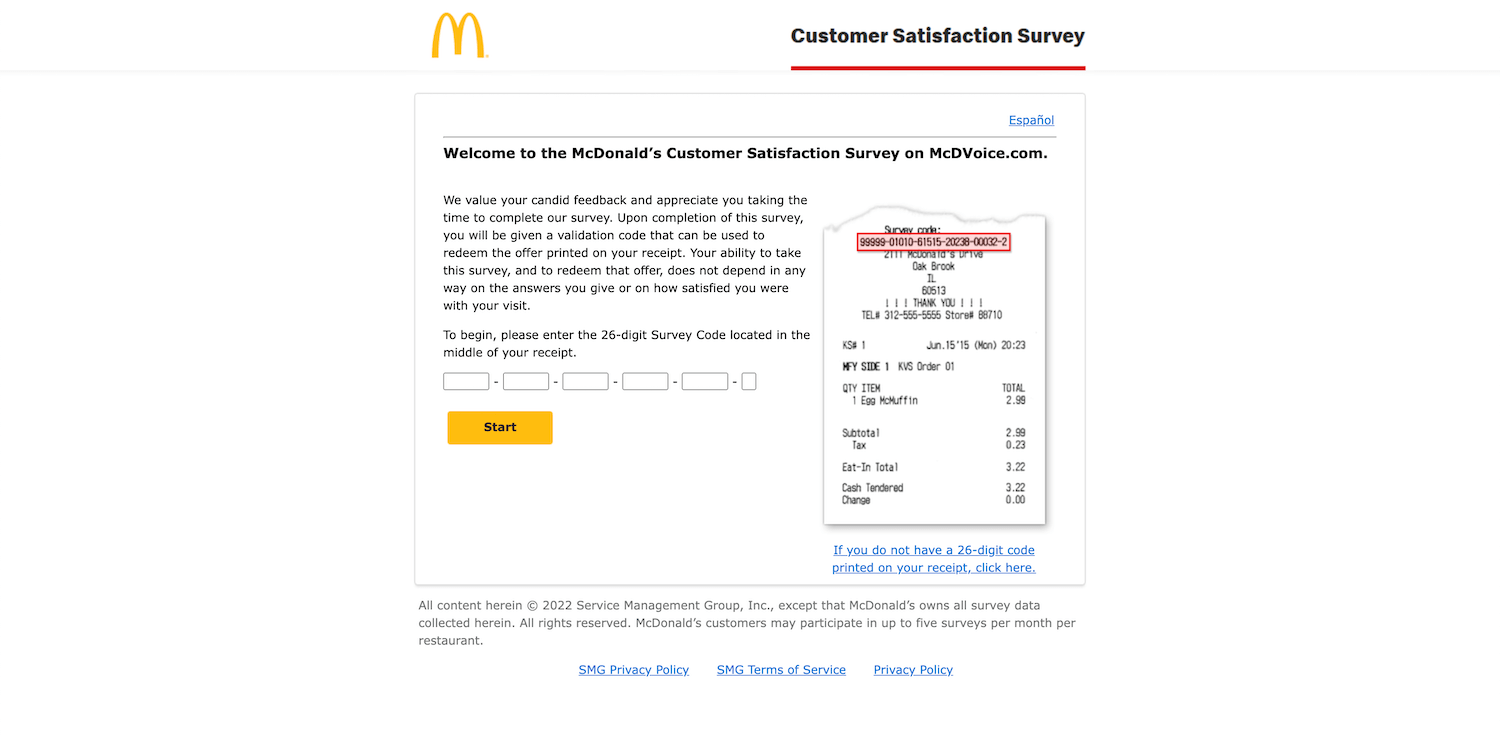 Complete the McDonald's Customer Satisfaction Survey on www.McDVOICE.com to redeem an offer by entering the Survey Code located on your receipt.
How to take McDonald's Customer Satisfaction Survey?
Open a browser and type www.mcdvoice.com in the address bar.
Enter the 26-digit Survey Code located in the middle of your McDonald's receipt and click on Start.
Select your order type; Drive-thru, Dine-in, Carry out.
The customer satisfaction survey will now begin and you will be asked to rate different aspects of the restaurant such as overall experience, the quality of the food, the ease of placing the order, the taste of the food, etc.
You will also be asked about the items you ordered and the quality of the items you received.
Once you are done rating everything, you will be asked to write a few lines about your visit.
In the end, you will be asked for some information such as your age, gender, etc for demographic purposes.
After you are done with the survey, a validation code will be shown on the screen.
McDVoice Rules
McDVoice participation is only valid for US McDonald's only.
McDonald's customers can participate in up to five surveys per month per restaurant.
The validation code can be redeemed within 30 days of the receipt date on the next visit to a McDonald's restaurant.
The limit is 1 redemption offer per person per visit.
The validation code is not valid with other offers.
The validation code may not be transferred, sold, duplicated, or transmitted electronically.
About McDonald's
McDonald's is an American-based multinational fast food restaurant chain that was founded in 1940 in California by the McDonald brothers, Richard and Maurice McDonald. It is the world's largest restaurant chain by revenue and is famous all over the world for its hamburgers, especially its iconic Big Macs. The company is currently headquartered in Chicago and operates over 30,000 restaurants in more than 100 countries across the world.